Hello,
I am looking for a chat application to implement it to my website. I don't have idea which to use or which is best. I came across RumbleTalk and Cbox but still looking for more options before I decide which to take.

Have in mind I want to be able to post youtube videos and charts into it and I also want to have option for design makeover.

Thanks!!
---
Well I started researching on my own then. I made a lot of research in
finding a chatroom for my website. I used envolve for a
while till they closed up, pitty. I tried IRC but I truly did not like
the look and feel and the "mess" of text in there.
I had several points which are important to me.
1
– First I needed a chat that can be seen in mobile (all versions) so I
narrowed down the search for html5 chat room that look good on both
mobile and pc.
2 – I needed a custom design, I needed my background to be black or transparent. This was very hard to find (my site is dark).
3 – I do not like to install the chat in my server as this is high cpu and resource consumer. So I need a chat service.
4 – Lastly, I needed the ability to add youtube videos and upload files.
I have checked several chats and only 2 met my needs, RumbleTalk and Cbox.
I choose RumbleTalk finally as it can be integrated into my page and not only as toolbar.
---
---
the very best is talking communities. I have used it for years and you can allow or dis allow cams,put up any webpage that everyone in the room can see,including youtube or any other site.
http://talkingcommunities.com/
---
Hi, just wanted to let you all know that we are still using Rumbletalk. You can always let me know if you need anything. I will be happy to assist you! I wanted to show you a
demo chat
so you can all see how it looks like.
---
Why I started using Rumbletalk?
1. I am able to post youtube videos, charts, pictures and it all looks nice
2. I am able to manage my own design just as much as I would like
3. I have the ability to export the chat logs(increase SEO with this)
4. I can use it on my blog, webpage and facebook page at the same time and it is synchronizing really well
5. Works really well on phones
6. It is html5 based and it is not a resourse hog
7. Nice support(got help when I needed it)
Check all of the
features
or try the demo chat on their page.
Rumbletalk also offers a free trial now! More info here:
Rumbletalk free trial!
Let me know what you think!
---
Posts: 1
Joined: Sun Apr 03, 2016 8:48 am
Hi there,
I was looking for an application like this for quite a while. Needed it for my radio website, so we could discuss trading with visitors and friends(share charts, pictures,etc) I started using
Rumbletalk
radio chat myself. I need to say that it's really a decent application which works nice for me. I usually use it on my webpage, blog and facebook page at the same time, it is synchronizing really well.
Thanks for this great review,
Cheers!
---
Posts: 1
Joined: Wed Apr 13, 2016 7:21 am
Tnx, very helpful. indeed RumbleTalk is a good group chat room.
Actually the only one that was Html5 that I could find (I use the the floating version).
I use the live video calls to talk to my audience.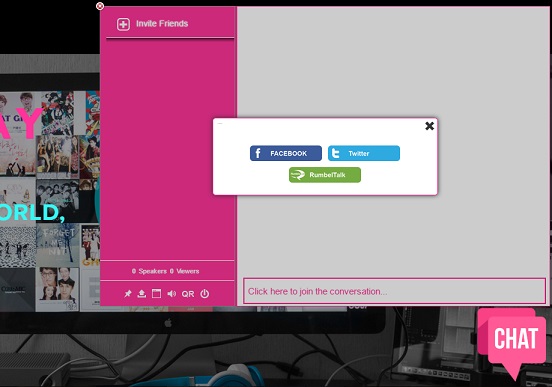 Note, when you get the chat code, make sure it is https and not http.
it took me some time to understand that this was the issue with my live video.
https://www.rumbletalk.com
.
---
Thanks for your kind words! It sure is a great application!
---
Posts: 1
Joined: Fri Apr 22, 2016 3:31 am
Hello there,
Newbie here
---